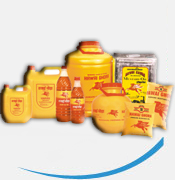 Through unprecedented involvement in every step of the creation process, we have raised the bar for quality standard. Our product range is the result of excellent team efforts of professional workforce, which is conscious of the continuous and rapid growth of the Oil Industry. The gamut of our range consists of:


Mustard Oil



Edible Oil



Non Edible Oil



Vegetable Oils



Vegetable Ghee



Vegetable Hydrogenated Oil
Mustard Oil
HAWAI GORA Mustard Oil is made from the first press of the mustard in the traditional way by slowly crushing the best mustard seeds in a temperature controlled environment to retain its pungency and natural properties. Its high pungency level enhances the taste of the food cooked in it and helps stimulate your appetite. It also helps in keeping pickles fresh for a longer duration while retaining their traditional flavor.
Available in:
| | | |
| --- | --- | --- |
| | Liner carton | 200 ml |
| | Pouches | 500 ml, 1 ltr. |
| | Pet bottles | 200 ml, 500 ml, 1 ltr. |
| | HDPE Jars | 2 ltr. & 5 ltr. |
| | Tins | 15 ltr. |
---
Vegetable Ghee
Vanaspati (also called 'Ghee' in the Middle East and African markets) is a white granular vanaspati (the hallmark of quality in any good vanaspati). Prepared through the hydrogenation of superior quality refined oil and fortified with Vitamin 'A', it is preferred for food that needs to be deep fried or sautéed for a longer period. It is also preferred in the making of traditional sweets and snacks.
| | | |
| --- | --- | --- |
| | Pouches | 500 ml, 1 ltr |
| | Jerry cans | 5 ltr |
| | Tins | 5 ltr |
---